Detta är en av våra vardagsfavoriter som vi äter ofta. Lagom lätt kvällsmat, men kan även användas som förrätt.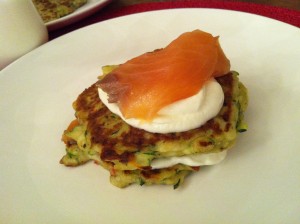 Ingredienser
1 st zucchini, medelstor
2,5 dl mjöl
1 st ägg
0,5 st röd chilifrukt, hackad
1 st vitlöksklyfta, finhackad
1 dl riven ost
salt och peppar
smör eller rapsolja till stekning
250 gram rökt lax
2 dl gräddfil
apelsin rasp från 1/2 apelsin
Gör såhär
1. Riv zucchinin.
2. Blanda mjöl och ägg.
3. Tillsätt zucchini, hackad chilifrukt och vitlök. Blanda ner den rivna osten. Salta och peppra.
4. Forma till lagom stora plättar och stek i smör/ rapsolja några minuter på varje sida.
5. Lägg en plätt med några skivor rökt lax och en klick gräddfil på.
6. Lägg sedan en plätt till ovanpå och garnera med lite apelsinrasp.
(Är du vegetarian kan du klart skippa laxen)
………………………………………………………………………………….
Ingredients
1 zucchini
200 grams flour
1 egg
0,5 red chili, chopped
1 clove garlic, chopped
1/2 cup grated cheese
salt and pepper
butter or oil for frying
250 grams smoked salmon
sour cream or greek yoghurt
finely grated orange peel
Do this
1. Grate the zucchini
2. Mix flour and egg
3. Add the zucchini, chopped chili and garlic. Stir in the grated cheese, salt and pepper
4. Fry the hash a few minutes on each side.
5. Serve with smoked salmon and sour cream
6. Add some grated orange peel and enjoy!