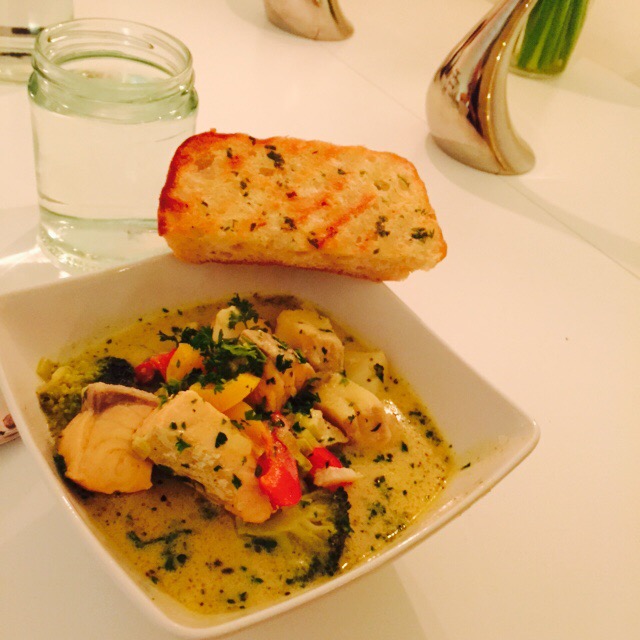 In English below
En riktigt god laxsoppa. Går och variera på massor av sätt. Bara fantasin sätter gränserna!
Ingredienser
100 g champinjoner
1 st röd paprika
1 st gul paprika
6 st schalottenlökar
1 dl finhackad purjolök
2 dl färska broccolibuketter
olivolja
1 tsk curry
1 tsk torkad oregano
salt & svartpeppar
1 l fiskbuljong
2 dl grädde
500 g laxfilé,
Bladpersilja, färsk, hackad
Gör så här
1. Skiva champinjonerna och hacka paprikan fint.
2. Skala och skiva schalottenlök.
3. Finhacka purjolök och skär av buketter från broccolin.
4. Häll lite olivolja i en stor kastrull.
5. Tillsätt champinjoner, paprika, lök, purjolök och kryddor och låt fräsa i någon minut.
6. Häll på buljong och grädde och låt koka i ca 10 minuter.
7. Skär laxen i mindre bitar och lägg i soppan tillsammans med broccolibuketterna.
8. Låt sjuda i ca 5 minuter.
9. Smaka av med salt, svartpeppar och eventuellt mera curry.
10. Strö över hackad bladpersilja innan servering.
……………………………………………………………………………………………………………………………………………………….
Ingredients
0.2 punds mushrooms
1 red paprika
1 yellow paprika
6 shallots
0.5 cups leeks
1 cup fresh broccoli
olive oil
1 tsp curry
1 tsp dried oregano
salt & black pepper
4.2 cups fish broth
1 cup cream
1.1 pounds salmon
leaf parsely
This is how you make it
1. Slice the mushrooms and chop the paprika.
2. Chop the shallots and leeks
3. Cut the broccoli in to smaller pieces.
4. Pour some olive oil in to a pan.
5. Add mushrooms, paprika, leeks, shallots and spices and let them fry for a moment.
6. Add the broth and cream and boil for 10 minutes.
7. Cut the salmon in to smaller pieces and add to the soup with the broccoli.
8. Simmer for 5 minutes.
9. Taste and add some salt, black pepper and maybe some more curry.
10. Sprinkle with parsely befor serving.
Enjoy!